Fried Potrimp with spicy sour sauce. Great recipe for Fried Potrimp with spicy sour sauce. Transfer to a paper-towel-lined plate with a slotted spoon. Heat frying oil in a pan then fry the fish.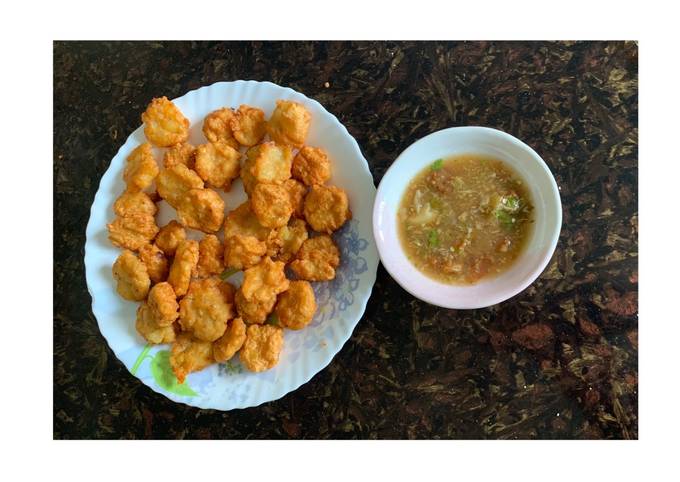 Remove the chicken from the fridge, dip them in the egg wash, dredge them in the flour and set them aside on a plate. Serve plain or with the dipping sauce. Thai crispy fish fried with spicy tamarind sauce is ideally eaten with a warm bowl of steamed rice. You can have Fried Potrimp with spicy sour sauce using 9 ingredients and 9 steps. Here is how you achieve that.
Ingredients of Fried Potrimp with spicy sour sauce
You need of Fried potrimp ball.
It's of Small shrimps.
Prepare 3-4 of Potato.
You need of Flour.
It's of Egg.
Prepare of Spicy sour sauce(optional).
You need of Tamarind.
You need of Chilli.
You need of Garlic.
Note: for those who are apprehensive about frying a fish whole, you can make this recipe with fish fillets. It might not be as crispy as a whole fish, but it will still be outstandingly delicious. In a small bowl, whisk the broth, soy sauce, vinegar, ketchup, sugar, wine, cornstarch and chile sauce. Add the ginger and garlic and cook over.
Fried Potrimp with spicy sour sauce instructions
First grind the potatoes.
Then grind the small shrimps.
Then mix these two and make a small ball with your hand.
Then cover up these balls with flour and beated egg.
Then fry it until the ball turns golden colour.
For the spicy sauce, u need to grind the tamarind and pour hot water and let it sit for 15 minutes.
Then remove the residue with filter you will get the sour sauce first.
To make it spicy, grind the chills and garlic(optional) and put them into the sour sauce.
Finally u can enjoy both fried potrimp and sauce.
Once the oil is very hot, fry the garlic and onions until fragrant. Add tomato, diced peppers, and pineapple chunks. Using slotted spoon, transfer fish to paper. Kkanpunggi 깐풍기 Kkanpunggi is spicy garlic fried chicken stir-fried with vegetables and a sweet, sour, spicy sauce. It's a Korean Chinese dish, originating in China but modified to suit Korean tastes, with Korean ingredients.