Easy sweet and sour pork. Drain and discard marinade from pork. Add the onion, carrots, green pepper, and ginger. Place pork in single layer in skillet.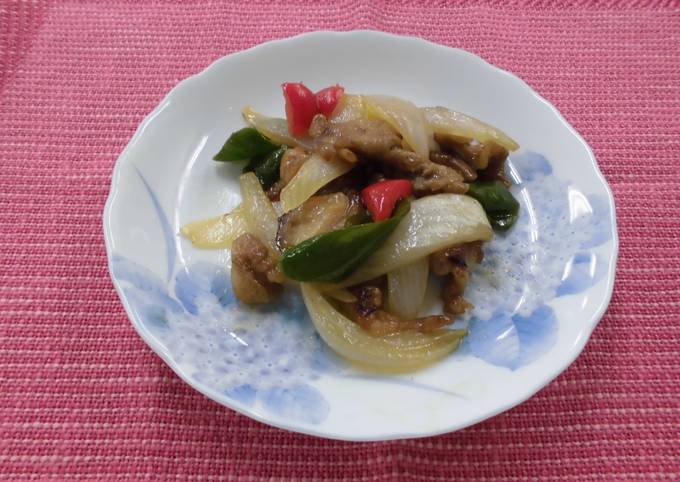 Season the pork generously with salt and pepper. Place the pork in the bowl and toss to cover. Sweet and Sour Pork is an amazing stir fry that is easy to make and bursting with flavor. You can have Easy sweet and sour pork using 9 ingredients and 4 steps. Here is how you achieve it.
Ingredients of Easy sweet and sour pork
It's of ・1 onion.
Prepare of ・2 green bell pepper.
You need of ・1/6 red bell pepper.
Prepare of ・2 fresh shiitake.
You need of ・240g thinly sliced pork.
Prepare of ・A little bit of salt and pepper.
It's of ・3 tablespoons of potato starch.
It's of ・1 tablespoon of sesame oil.
You need of ・4 tablespoons of ponzu-soy sauce.
If you haven't tried my easy beef stir fry or pepper steak stir fry here is your opportunity. Preheat a wok or large skillet over high heat; add oil. The best ever Sweet and Sour Pork recipe is loaded with tricks the Chinese have been using for centuries: double dredge and double fry for extra crispy, cornflour instead of flour, economical pork used for juiciness, but tenderised with baking soda so you'd swear they're pricey chops, and a sauce that's not sickeningly sweet. Sweet and Sour Pork is a restaurant-quality meal that can be easily made at home in one pan.
Easy sweet and sour pork instructions
Cut the onion into wedges and break into pieces.Roughly chop the green bell pepper and red bell pepper.Slice the shiitake mushrooms..
Put the sliced pork in a plastic bag with salt and pepper.Sprinkle potato starch and mix it so the meat is evenly covered in it..
Heat sesame oil in a frying pan and cook the pork,onion,peppers,and shiitake mushrooms..
Add ponzu-soy sauce to 3 and stir-fry until the mixture thickens..
Crispy, sweet, sour and made with budget-friendly ingredients. This Chinese stir-fry dish has pretty much the best flavors. The meat is coated in a nice sweet, tangy, and citrusy sauce. The sweet and sour sauce that will coat the pork is made by whisking together chicken broth, apple cider vinegar, granulated sugar (brown sugar would work as well), ketchup, garlic, ginger, salt, and the white parts of some chopped green onions. In a separate bowl prepare the cornstarch slurry by whisking together cornstarch and water.