Mild Curry with Tumeric Rice.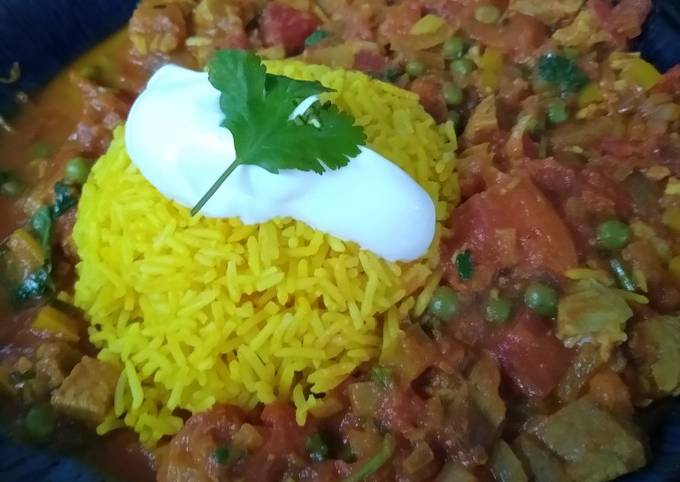 You can have Mild Curry with Tumeric Rice using 0 ingredients and 10 steps. Here is how you achieve it.
Ingredients of Mild Curry with Tumeric Rice
Mild Curry with Tumeric Rice step by step
Put the rice on: Chuck everything into a pot or rice cooker and cook according to packet instructions..
Make your spice mix: Toast the cumin seeds and combine well with the rest of the spices..
Brown your butter: This adds a nutty but delicious flavour… It's not too noticeable but it does make a difference..
Meanwhile, dice the onions, peppers, and garlic. Roughly chop the coriander, quarter the tomatoes and cut the meat into bite size pieces. Watch your butter because you want it to turn a deep amber and not burn. Take it off the heat ass soon as it's done..
Place the garlic, pepper and onion in a pan with the browned butter and cook on medium until wilted. Then add the meat and spices and mix until everything is coated. Cook for 5 minutes..
Add the tomatoes, korma paste, tinned tomatoes, salt, pepper, mustard and 300ml water. Simmer for 5 minutes, or until it has reduced to a thicker curry..
If your rice is ready, then fluff it with a fork to aerate it..
Whilst simmering, add in your peas to heat them through and cook..
Turn to a low heat and pour your cream in whilst mixing vigorously. Do the same for the milk. Then, toss in your coriander and your ready to serve..
Use a small bowl to pack the rice down and invert it onto your plate, forming a beautiful dome of rice. Around the sides, ladle your curry and then garnish with a dollop of Greek yoghurt and a coriander leaf. Serve to your guests for a delicious but also stunning curry..